The Mary Green Chorale is committed to achieving the highest excellence in all aspects of choral performance while advancing the choral arts in the Lowcountry by preserving and presenting classical and contemporary masterpieces of uncommon scope and variety and uniting artists, instrumentalists, and audience through musical diversity, education, and community outreach.
Mary Woodmansee Green founded The Mary Green Singers in Philadelphia in 1986 and led them in concerts in the US, Canada, Europe and the Middle East with major symphony orchestras as well as in intimate a cappella concerts. She has continued her choral work in the Lowcountry with the 30-40 voice Mary Green Chorale – men's, women's and mixed ensembles singing a wide variety of choral literature – since 2012.
From it's first concert on Hilton Head Island in February, 2012 - "This Shining Night", to the exciting 2019-20 season – the MGC has performed such varied programs as a BachFest, Songs of War and Peace, St. Patrick's Day celebrations, Veteran's Day tributes, Latin music, Love Songs, Songs of the Sea, as well as Classical and Contemporary programs of works from around the globe.
The singers in the Chorale are from all over the country – and have happily chosen the Lowcountry as their home. They bring with them years of experience and knowledge of repertoire from many different ensembles – college and church choirs, community choruses, symphony orchestra choruses and other professional ensembles. Many direct choirs, play instruments, and love music- singing in particular. They are dedicated individuals – eager to master new pieces, learning music on their own and arranging extra rehearsals with other singers as needed. They all try to capture, in sound and sight, the wonders of music at hand so that the audience is drawn to each piece they perform.

A hallmark of the Chorale's concerts are the introductions made by Maestra Green and members of the ensemble to enhance the understanding and appreciation of the pieces performed. Concerts also include outstanding professional instrumentalists to provide variety of timbre and repertoire. The gifted pianist Gerald Anderson accompanies the Chorale.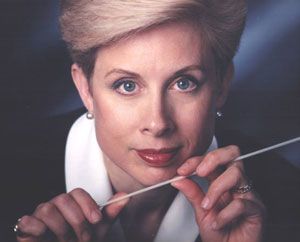 Music Director and CEO Mary Woodmansee Green has been conducting professional, community and school orchestras and choruses for nearly 50 years. Whatever the ensemble or genre – symphonic, choral, opera, pops or ballet – she is dedicated to crafting an entire experience with her programming, performing the finest music accompanied by informative and entertaining commentary to engage and stretch both her performers and audience. She served for 13 seasons as Music Director and Conductor of the Hilton Head Symphony Orchestra and 25 seasons with the Kennett Symphony Orchestra in suburban Philadelphia.
"Green has galvanized her musicians into a vibrant, energized whole, commanding brilliant playing, getting everything she  wanted by way of interpretation. The concert pulsated with wall-to-wall excitement, surrounding the audience with the sort of compelling, finely tuned playing that has not been heard in these parts for many a year. At the heart of Green's success is programming of uncommon scope and variety. ... Green's podium style is vigorous, with crystal-clear stick-work and expressive body language. ... Green punctuated the concert with cogent commentary. She outlined salient points, providing the listener with a mini road map." (Island Packet) 
"Mary Woodmansee Green conducting the Kennett Symphony Orchestra and the Mary Green Singers knocked 'em dead with the Symphony's...performance in Longwood Garden's Open Air Amphitheatre Saturday night...Kennett Symphony's show was classy, stylish and pleasing." (Chester County Press) 
"Making beautiful music is [this] conductor's mission...Mary Woodmansee Green conducts her life and her orchestra with confidence and poise." (The Jewish Times), Philadelphia
Ms. Green has also conducted the Delaware County Symphony, European Symposium for Choral Masterworks with members of the Vienna Philharmonic, members of the Philadelphia and Pittsburgh Symphony Orchestras, the Fairbanks Symphony, Independence Sinfonia, Kingston Symphony Orchestra, Lansdowne Symphony, Newark Symphony, Ocean City Pops, Old York Road Symphony, Orchestre de Ste. Louis en l'Île, Orchestra Society of Philadelphia, Pennsylvania Orchestra, Valdosta Symphony Orchestra, Westfield Symphony Orchestra, West London Sinfonia, Wilmington Orchestra, professional, community and festival orchestras and choruses in Europe, the United Kingdom and the Middle East, at Philadelphia's Academy of Music and Mann Music Center, New York's Carnegie Hall and Lincoln Center, Washington's Kennedy Center and Wilmington's Grand Opera House, working with such outstanding conductors as Eugene Ormandy, Zubin Mehta, Sergiu Comissiona, William Smith and Peter Nero.
An active and dynamic speaker and advocate for orchestral music and music education, Ms. Green is also a seasoned accompanist, appearing with professional singers and instrumentalists.
Ms. Green founded The Mary Green Singers in 1986 with performances of Carmina Burana with the Pennsylvania Ballet at the Academy of Music and Mann Music Center. Over its 30+ years of activities, they performed with the Kennett Symphony at Longwood Gardens, Ocean City Pops, NJ and in public service concerts throughout the Greater Philadelphia area. Abroad, they have sung with many orchestras, including the Israel Philharmonic under Zubin Mehta in Tel Aviv and Haifa, and under Ms. Green's direction with the West London Sinfonia in Rome, l'Orchestre de Ste. Louis en l'ile in Paris and the Kingston Symphony, in Ontario, Canada. The Singers, who were from the tri-state area, made seven Cultural Exchange and Performance Tours to Promote Peace and International Goodwill to Austria, Canada, the Czech Republic, England, France, Germany, Hungary, Israel, Italy and Scotland with Mayoral Greetings and gifts from the City of Philadelphia.
In 2006, Ms. Green founded the Hilton Head Symphony Orchestra Chorus and conducted performances of Brahms' A German Requiem; Tchaikovsky's 1812 Overture; Mozart's Grand Mass in G minor; Holst's The Planets; opera selections from Aida, Die Fledermaus, A Midsummer Night's Dream; Falstaff and Macbeth; as well as numerous other works by Orff, Bach, Berlioz, Verdi, Copland, Handel and Mendelssohn.
Having brought The Mary Green Singers to Hilton Head to perform with the HHSO, and founding and directing the HHSO Chorus, it was a natural extension to continue her conducting activities with The Mary Green Chorale. Ms. Green is now happily living full time in Hilton Head and is proud to give back to her community.
Meet our Accompanist


Dr. Gerald Anderson served as a full-time member of the music faculty at Olivet Nazarene University in Bourbonnais, Illinois from 1978-2014. He retired as Professor of Music Emeritus and moved to Sun City Hilton Head, South Carolina in the fall of 2014. During his tenure at ONU he taught private and class piano, as well as courses in music theory and music history. In 1989, he was named Olivet's Faculty Member of the Year; in 2005, he was presented the Richard M. Jones Award for Teaching Excellence. Dr. and Mrs. Anderson have funded an endowment for musical master classes at Olivet.

Throughout his career, Dr. Anderson has performed extensively as a soloist, accompanist, chamber musician, church musician, adjudicator and clinician. He was a featured soloist on the television show "Thirty Good Minutes," which aired on public station WTTW, Chicago, and was sponsored by the Chicago Sunday Evening Club. Since moving to Sun City, Dr. Anderson has performed several solo programs at TidePointe Hilton Head, The Cypress, and participated in several productions with the Sun City Theater Club. He currently serves as pianist for First Presbyterian Church (Hilton Head), The Mary Green Chorale, and the Oseh Shalom Temple.

Dr. Anderson holds a Bachelor of Science degree from Southern Nazarene University, Bachelor of Music and Master of Music degrees in Piano Pedagogy from Texas Tech University, and a Doctor of Musical Arts degree in Piano Performance from the American Conservatory of Music, Chicago.

He and his wife, Mary (who retired from ONU Career Services after 35 years), have two married children and four grandchildren.
  123 Harbour Passage  Hilton Head Island, SC 29926 843-715-2557