The Mary Green Chorale is committed to achieving the highest excellence in all aspects of choral performance while advancing the choral arts in the Lowcountry by preserving and presenting classical and contemporary masterpieces of uncommon scope and variety and uniting artists, instrumentalists, and audience through musical diversity, education, and community outreach.
Mary Woodmansee Green founded The Mary Green Singers in Philadelphia in 1986 and led them in concerts in the US, Canada, Europe and the Middle East with major symphony orchestras as well as in intimate a cappella concerts. She has continued her choral work in the Lowcountry with the 30-40 voice Mary Green Chorale – men's, women's and mixed ensembles singing a wide variety of choral literature – since 2012.
From it's first concert on Hilton Head Island in February, 2012 - "This Shining Night", to the exciting 2021-22 season – the MGC has performed such varied programs as a BachFest, Songs of War and Peace, St. Patrick's Day celebrations, Veteran's Day tributes, Latin music, Love Songs, Songs of the Sea, as well as Classical and Contemporary programs of works from around the globe.
The singers in the Chorale are from all over the country – and have happily chosen the Lowcountry as their home. They bring with them years of experience and knowledge of repertoire from many different ensembles – college and church choirs, community choruses, symphony orchestra choruses and other professional ensembles. Many direct choirs, play instruments, and love music- singing in particular. They are dedicated individuals – eager to master new pieces, learning music on their own and arranging extra rehearsals with other singers as needed. They all try to capture, in sound and sight, the wonders of music at hand so that the audience is drawn to each piece they perform.
A hallmark of the Chorale's concerts are the introductions made by Maestra Green and members of the ensemble to enhance the understanding and appreciation of the pieces performed. Concerts also include outstanding professional instrumentalists to provide variety of timbre and repertoire. The gifted pianist Gerald Anderson accompanies the Chorale.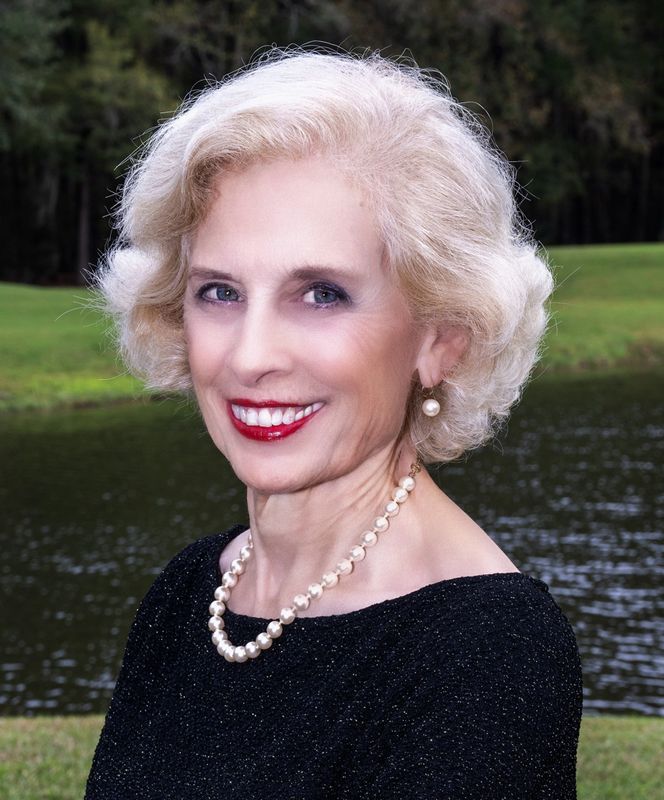 Music Director and CEO Mary Woodmansee Green has been conducting professional, community and school orchestras and choruses for nearly 50 years. Whatever the ensemble or genre – symphonic, choral, opera, pops or ballet – she is dedicated to crafting an entire experience with her programming, performing the finest music accompanied by informative and entertaining commentary to engage and stretch both her performers and audience. She served for 13 seasons as Music Director and Conductor of the Hilton Head Symphony Orchestra and 25 seasons with the Kennett Symphony Orchestra in suburban Philadelphia.
"Green has galvanized her musicians into a vibrant, energized whole, commanding brilliant playing, getting everything she  wanted by way of interpretation. The concert pulsated with wall-to-wall excitement, surrounding the audience with the sort of compelling, finely tuned playing that has not been heard in these parts for many a year. At the heart of Green's success is programming of uncommon scope and variety. ... Green's podium style is vigorous, with crystal-clear stick-work and expressive body language. ... Green punctuated the concert with cogent commentary. She outlined salient points, providing the listener with a mini road map." (Island Packet) 
"Mary Woodmansee Green conducting the Kennett Symphony Orchestra and the Mary Green Singers knocked 'em dead with the Symphony's...performance in Longwood Garden's Open Air Amphitheatre Saturday night...Kennett Symphony's show was classy, stylish and pleasing." (Chester County Press) 
"Making beautiful music is [this] conductor's mission...Mary Woodmansee Green conducts her life and her orchestra with confidence and poise." (The Jewish Times), Philadelphia
Ms. Green has also conducted the Delaware County Symphony, European Symposium for Choral Masterworks with members of the Vienna Philharmonic, members of the Philadelphia and Pittsburgh Symphony Orchestras, the Fairbanks Symphony, Independence Sinfonia, Kingston Symphony Orchestra, Lansdowne Symphony, Newark Symphony, Ocean City Pops, Old York Road Symphony, Orchestre de Ste. Louis en l'Île, Orchestra Society of Philadelphia, Pennsylvania Orchestra, Valdosta Symphony Orchestra, Westfield Symphony Orchestra, West London Sinfonia, Wilmington Orchestra, professional, community and festival orchestras and choruses in Europe, the United Kingdom and the Middle East, at Philadelphia's Academy of Music and Mann Music Center, New York's Carnegie Hall and Lincoln Center, Washington's Kennedy Center and Wilmington's Grand Opera House, working with such outstanding conductors as Eugene Ormandy, Zubin Mehta, Sergiu Comissiona, William Smith and Peter Nero.
An active and dynamic speaker and advocate for orchestral music and music education, Ms. Green is also a seasoned accompanist, appearing with professional singers and instrumentalists.
Ms. Green founded The Mary Green Singers in 1986 with performances of Carmina Burana with the Pennsylvania Ballet at the Academy of Music and Mann Music Center. Over its 30+ years of activities, they performed with the Kennett Symphony at Longwood Gardens, Ocean City Pops, NJ and in public service concerts throughout the Greater Philadelphia area. Abroad, they have sung with many orchestras, including the Israel Philharmonic under Zubin Mehta in Tel Aviv and Haifa, and under Ms. Green's direction with the West London Sinfonia in Rome, l'Orchestre de Ste. Louis en l'ile in Paris and the Kingston Symphony, in Ontario, Canada. The Singers, who were from the tri-state area, made seven Cultural Exchange and Performance Tours to Promote Peace and International Goodwill to Austria, Canada, the Czech Republic, England, France, Germany, Hungary, Israel, Italy and Scotland with Mayoral Greetings and gifts from the City of Philadelphia.
In 2006, Ms. Green founded the Hilton Head Symphony Orchestra Chorus and conducted performances of Brahms' A German Requiem; Tchaikovsky's 1812 Overture; Mozart's Grand Mass in G minor; Holst's The Planets; opera selections from Aida, Die Fledermaus, A Midsummer Night's Dream; Falstaff and Macbeth; as well as numerous other works by Orff, Bach, Berlioz, Verdi, Copland, Handel and Mendelssohn.
Having brought The Mary Green Singers to Hilton Head to perform with the HHSO, and founding and directing the HHSO Chorus, it was a natural extension to continue her conducting activities with The Mary Green Chorale. Ms. Green is now happily living full time in Hilton Head and is proud to give back to her community.
Meet our Accompanist


Dr. Gerald Anderson served as a full-time member of the music faculty at Olivet Nazarene University in Bourbonnais, Illinois from 1978-2014. He retired as Professor of Music Emeritus and moved to Sun City Hilton Head, South Carolina in the fall of 2014. During his tenure at ONU he taught private and class piano, as well as courses in music theory and music history. In 1989, he was named Olivet's Faculty Member of the Year; in 2005, he was presented the Richard M. Jones Award for Teaching Excellence. Dr. and Mrs. Anderson have funded an endowment for musical master classes at Olivet.

Throughout his career, Dr. Anderson has performed extensively as a soloist, accompanist, chamber musician, church musician, adjudicator and clinician. He was a featured soloist on the television show "Thirty Good Minutes," which aired on public station WTTW, Chicago, and was sponsored by the Chicago Sunday Evening Club. Since moving to Sun City, Dr. Anderson has performed several solo programs at TidePointe Hilton Head, The Cypress, and participated in several productions with the Sun City Theater Club. He currently serves as pianist for First Presbyterian Church (Hilton Head), The Mary Green Chorale, and the Oseh Shalom Temple.

Dr. Anderson holds a Bachelor of Science degree from Southern Nazarene University, Bachelor of Music and Master of Music degrees in Piano Pedagogy from Texas Tech University, and a Doctor of Musical Arts degree in Piano Performance from the American Conservatory of Music, Chicago.

He and his wife, Mary (who retired from ONU Career Services after 35 years), have two married children and four grandchildren.
Board of Directors
Mary Woodmansee Green: Founder/Artistic Music Director/Conductor
Artistic Music Director and Conductor, Mary Woodmansee Green has been conducting professional, community and school orchestras and choruses for nearly 50 years. Whatever the ensemble or genre – symphonic, choral, opera, pops or ballet – she is dedicated to crafting an entire experience with her programming, performing the finest music accompanied by informative and entertaining commentary to engage and stretch both her performers and audience. See Mary's full bio above.
Gayle Lang: Vice President/Manager/Library/Website
A voice performance major from The Ohio State University and passionate about the choral and theater arts from a very young age, Gayle Lang has performed professionally with symphony orchestras and opera companies across the US. In addition, she spent 20 years working in musical theater as an award-winning producer, assistant director, actor, and costumer. She continues to perform both on stage and with several choral ensembles in the Lowcountry, including the MGC and HH Symphony Orchestra Chorus. Gayle is a frequent soloist for St. Luke's Church and also performed with the HH Choral Society for 12 years. She has been employed by the Hilton Head Symphony Orchestra since 2006 and currently serves as Special Projects Editor and the Manager of the HHSO Chorus after retiring as Director of Operations for the Hilton Head International Piano Competition in 2012. Gayle has also served her various communities on executive boards and committees as President, VP, Secretary, Treasurer and Marketing Consultant.

Henry Brown: Secretary/Director, Legal
Henry Brown is a retired attorney who specialized in energy and corporate law. He was previously licensed to practice in the states of Colorado, West Virginia and the District of Columbia, before state and federal courts, including the United States Supreme Court. He served as an officer of two major corporations, including Vice President, Secretary and General Counsel. Henry has also served on numerous non-profit Boards throughout his career, a service he continues after retirement. His formal education includes degrees from Hope College, Holland Michigan (B.A., 1965), Georgetown Law Center, Washington, D.C. (J.D., 1968) and the University of Colorado, Denver, Colorado (M.B.A., 1983). After taking a 50-year break from singing in choral groups, Henry enjoys singing in the Mary Green Chorale. 

Jeff Birk: Director, Finance
Having received his B.S. degree in Accounting and Masters in Taxation from Indiana University, Jeff Birk worked in Chicago for the accounting firm of Arthur Andersen in the early 1970s. After moving back to Indiana, he founded his own accounting and consulting firm in 1979 and was Managing Partner of BGBC Partners, LLP until 2005. He transformed BGBC Partners, LLP into one of the best and larger firms in Indianapolis. Since moving to Hilton Head Island, he has been elected to the Board of Directors of the Indigo Run COA and serves on its Finance Committee, serves as a member of The Children's Center Finance Committee, and continues to serve on two Board's in the Indianapolis area, utilizing his accounting, finance and strategic planning skills. Jeff has also returned to his first love and his musical roots of early life in performing with the Mary Green Chorale.


Anne Millhaem: Director, Marketing
Anne is a graduate of Miami University (Ohio) with a B.S. in Marketing. She was employed as a Public Relations Specialist at Mosler Inc. before becoming a full-time mom. While raising two boys with her husband, Bill, she volunteered in various capacities: PTA officer, yearbook advisor, hockey and baseball team manager, and band chaperone/administrator. As a member of Sycamore Presbyterian Church, Anne handled media relations for their Speakers Series and for a 6 million dollar building project. She sang in the Chancel Choir at Sycamore and in the Forest Chapel Women's Ensemble for over 25 years. She currently sings in the First Presbyterian Church of Hilton Head Sanctuary Choir, and serves the choir as Secretary and Music Librarian, in addition to singing in the HHSO Chorus and The Mary Green Chorale.


Jan Steffe: Director, Box Office
Since graduating from Kettering University (BEE) and Harvard Business School (MBA), Jan Steffe enjoyed a 35 year career with General Motors in various manufacturing, financial, product and business planning, marketing, and program management positions, encompassing Michigan, Mexico, China, and Germany. A highlight was the negotiation and start-up of the GM/Shanghai Automotive joint venture. His last position was that of Program Management Director, Global Compact Vehicles. Throughout his career, Jan has continued in his love for music, singing with numerous choral ensembles in Northville, MI; Wiesbaden, Germany; Mexico City, Mexico; London, England; and Bern, Switzerland. Most recently, Jan performs with the Hilton Head Symphony Orchestra Chorus and the Mary Green Chorale.

Marcus Walsh: Director, Social Media
Marcus Walsh serves as Social Media Master in charge of maintaining the MGC Facebook page to promote and sell tickets for the ensemble. A 2012 graduate of Ashland University (OH), he is on the executive committee of the Bluffton Chamber Young Professionals Group, an Independent Contract Broadcaster, Announcer and Reporter, Correspondent for WHHI TV since 2013, and a Play-by-Play Announcer for Hilton Head Gator Youth Football since 2014. Marcus has sung with the MGC since the 2015-16 season. He has also sung part-time since 2013 with the St Luke's Church Choir on HHI during the Christmas and Lent or Easter seasons. A former original member of the Port Royal Sound Vocals from 2012 through 2016, he also has hosted the Marcus Walsh Show Podcast since March of 2021. Marcus also sings with the Hilton Head Choral Society and Hilton Head Symphony Orchestra Chorus.
Linda Dreisbach: Director, Fundraising
Linda Dreisbach is a graduate of the Allentown Business College and was employed by Lehigh University, Bethlehem, PA for 32 years as an Administrative Assistant and Center Coordinator for the Sherman Fairchild Center. While at Lehigh she was the recipient of the 2014 Hillman Nonexempt Staff Award. She also served as the membership recruiter for the IEEE Electron Device Society for 20 years. For the past 26 years, she served as organist and choir director at Emmanuel Lutheran Church in Bath, PA. Currently, she is serving as organist at the First Baptist Church in Hilton Head, SC, is on the board of the Mary Green Chorale, and for the last three years has been the Community Outreach Chair for the Women's Association of Hilton Head Island (WAHHI).
  123 Harbour Passage  Hilton Head Island, SC 29926 843-715-2557